View the Current Calendar

Upcoming Events:
Fall Festival & Craft Show
October 14, 2023
There will be games for the children
Halloween Costume Contest-Halloween
Candy for the Children
Crafts & fun for all!
Public invited!
There is a signup sheet in the Sanctuary for volunteers and for donations of Halloween candy, cakes for the Cake Walk etc.!  For more info, contact Leslie Kaye Ferdon or Rachael McConnell or view the Fall Festival and Craft Show page.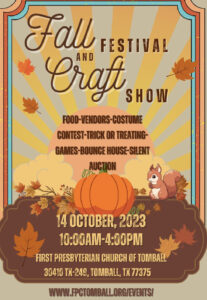 Weekly Church Calendar:
Sundays
9:30 a.m.
Sunday School & Young Adult Class
11:00 a.m.
Church Services
Mondays
9:00 a.m.
The Church Office is Open 9am to 1pm
6:00 p.m.
Fourth Mondays – Session Meeting
Tuesdays
10:00 a.m.
Women's Bible Study
12:00 p.m.
Brown Bag Lunch & Outreach/Craft Projects
12:30 p.m.
First Tuesdays – Red Hat Luncheon
Wednesdays
10:00 a.m.
Men's Bible Study
7:00 p.m.
Wednesdays of Sept-May – Choir Practice
Thursdays

The Church Office is closed

Fridays

The Church Office is closed

Saturdays

The Church Office is closed