View the Current Calendar

Upcoming Events:
Seafarer's Boxes
January 1, 1970
Please bring your Seafarer Boxes to church by Sunday, 12/3. For new members, this is a Ministry for the Port of Houston that collects thousands of shoe boxes from churches around the Houston area, filled with toiletries and other items for the Seafarers.  Some who are out on the ships for months during Christmas.  Some of the boxes are delivered by helicopter and others are distributed to the Seafarers when they are in port at the Seafarers Center.  Its an amazing Ministry that our Church donates to each year.  As always we appreciate all of your generous support.  If you have any questions, please see Linda Collinsworth.  If you need a list of suggested items to be placed in the boxes we have those as well.          
Society of Samaritans Donations
January 1, 1970
SOS are asking for donations of toys, nothing more than $20 this year instead of buying for a selected family.  They will have a "Happy Birthday Jesus Breakfast" on 12/16 for the children.  They will be able to select a toy.  Please bring your toy donations, unwrapped, by Sunday, 12/10 to church
Thank you for your support!
Presbyterian Giving Catalogue
November 19, 2023
Next Sunday will be the last day to donate for the Presbyterian Women's Group to purchase gifts from the Presbyterian Gift Catalog.  Checks may be made to First Presbyterian Church with a note in memo "Gift Catalog."  Donations will go toward purchasing Chickens, Goats, Pigs, Cows, Wells, food baskets etc.  You may view the catalog at presbyteriangifts.pcusa.org.   Any donations are appreciated.  If you have any questions, contact Marie Coulson or Cate McNutt.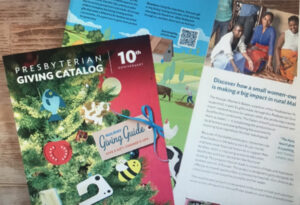 Veteran's Christmas Cards
December 3, 2023
As many of you know, I collect and send signed Christmas cards to our Veterans that are hospitalized at Christmas time every year.  Our Church sends from 600-1000 each year to Camp Hope in Houston, to Fort Sam Houston and to Walter Reed.
  I will brought an assortment of cards to Church.  You may take them home and return them by 12/3.  No need to address them, just write a note if you wish, sign them and seal them.  Children are encouraged to even draw a picture and sign if they can.  You may use your own cards from home also.
  I will box them up, mail them and the VA Hospitals will distribute them.
  I sincerely appreciate your support, as I know that your cards will bring a bit of Christmas joy and get well wishes to our sick Veterans.
Thank you and God bless,
Irma
Christmas Market
December 9, 2023
at 10:00 am to 4:00 pm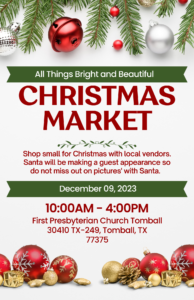 Team Christmas List Items
December 17, 2023
Below is a list of items suggested for gift giving  for TEAM this Christmas.  Instead of buying for a particular family, they are asking for these suggested assorted items.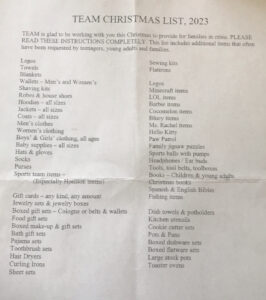 Christmas Cantata
December 17, 2023
at 11:00 am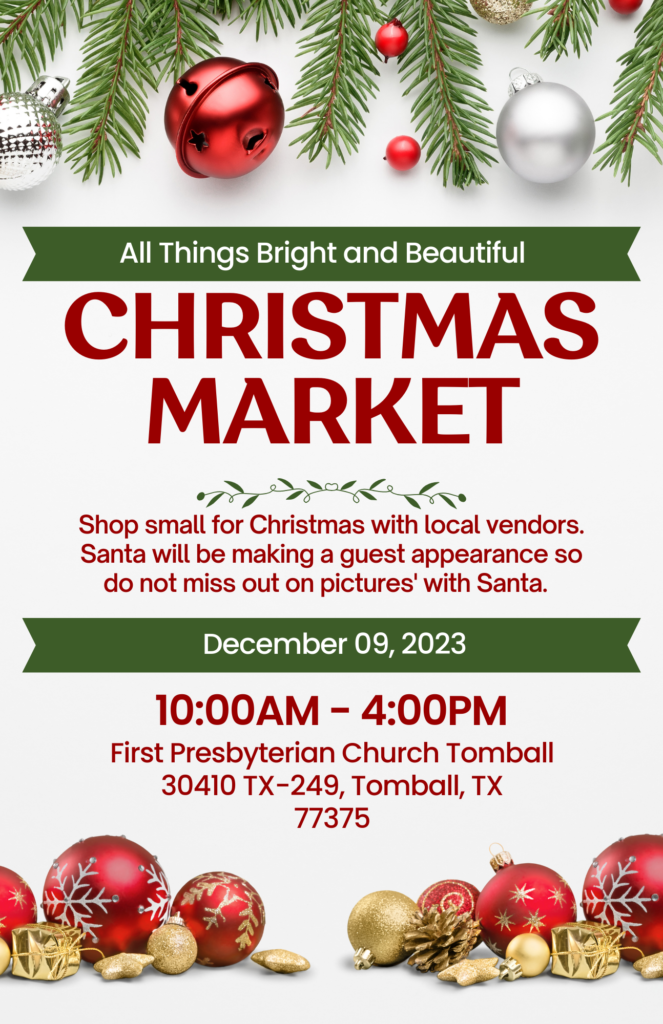 Weekly Church Calendar:
Sundays
9:30 a.m.
Sunday School & Young Adult Class
11:00 a.m.
Church Services
Mondays
9:00 a.m.
The Church Office is Open 9am to 1pm
6:00 p.m.
Fourth Mondays – Session Meeting
Tuesdays
10:00 a.m.
Women's Bible Study
12:00 p.m.
Brown Bag Lunch & Outreach/Craft Projects
12:30 p.m.
First Tuesdays – Red Hat Luncheon
Wednesdays
10:00 a.m.
Men's Bible Study
7:00 p.m.
Wednesdays of Sept-May – Choir Practice
Thursdays

The Church Office is closed

Fridays

The Church Office is closed

Saturdays

The Church Office is closed